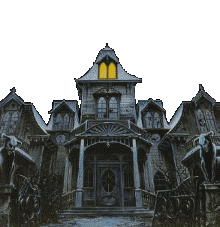 This page was last updated on: September 24, 2009

Please sign our guest book and let us know if you have visited us in person.













If you have pictures you've taken at the Halloween House that you'd like to contribute, please email them to: bloodymelly@shaw.ca

WHAT WAS THE HALLOWEEN HOUSE?

We hope you joined us in person for our

Final Year of Fear

Nanaimo, British Columbia

Halloween House was a haunted graveyard that came alive one day a year, on Halloween.  It wasn't just a haunted graveyard, but as everyone in Nanaimo knows, it was the scariest one you ever walked through!

Between the haunting sounds coming from the yard, the screams of victims passing through, the roar of the chainsaw...and the psychotic looking G.I. lady running out of the yard with a head dripping blood, many were shaking before they even entered.  And some got to the gate and turned away in fear, unable to venture inside.

The Kirk family (Keith, Melanie & Dave) started the whole thing in the early 90's with a few jack-o-lanterns lighting the way up a path to the door, a dummy climbing out a window, and a few grave markers placed around the yard.  It grew into a winding path through a graveyard that magically appeared every October 31 with ten to fifteen different scenes and 25 to 30 actors along the way to make you jump and scream.  At least 100 carved pumpkins lit the path, and spirits came from as far away as Seattle, Anchorage and Calgary to haunt the graveyard.

There was no charge for admission, but cash donations for the NANAIMO & DISTRICT HOSPITAL FOUNDATION were gladly accepted. Thanks to your generosity, we have donated over $23,000 to our hospital over the last nine years! For the Final Year of Fear, 2006, we split our donations between the Hospital Foundation and the RCMP's Cops For Cancer Fund*. In exchange, the RCMP provided security in an effort to prevent the "problem visitors" we had lin 2005 from ruining the fun for all you decent folks. It worked! We had 4,048 visitors, over $5,000 in donations for the two charities, and very few problems. No visitor was arrested or buried, and only a few were removed!

THANKS TO THE  AVERAGE 5,000+ VISITORS EVERY HALLOWEEN SINCE 2000! We have appreciated your support  & love to make ya scream!

If you missed the opportunity to visit in person, don't despair. The website will be up for a while and you can live vicariously through our photos!

Check for sound, if you dare

* "Demon Dave" questions the name "Cops for Cancer". Are they really FOR cancer?  Maybe it should be Cops Against Cancer? Hmmm, maybe he has a point...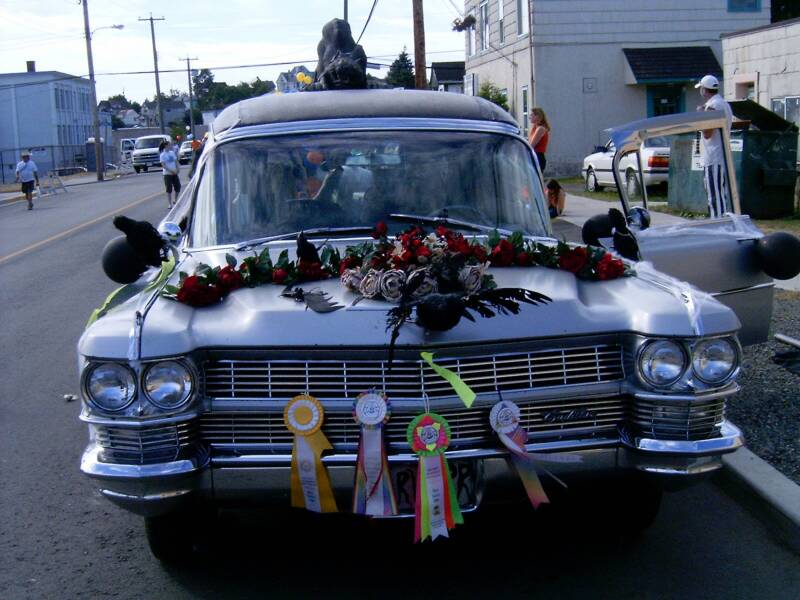 To all who showed an interest in purchasing our "baby", sorry, she's been sold!

We're glad to know she'll be restored, but it is so very hard to see her go.

Although the Halloween House isn't here to frighten you, we invite you to join us at Nanaimo's VIEX grounds for Island Haunt Productions'

"The Awakening"

Come into my parlour...if you dare...

The Awakening will be open to visitors  Oct 23,24 and Oct 27-31 from 7-11pm*

Come early. We'll be waiting...

* Ticket sales end each night so our last victim...er visitor enters the attraction by 11pm. Come early so as not to be disappointed...Especially the last couple evenings!